Keep Contactin'
1.1
Keep Contactin' is a simple address book application. It allows you to manage your contacts in the similar way the Microsoft Pocket Outlook does and also has advanced sorting functionality (sorting contacts by First/Last Name, Address, Phone Number and etc.)
Requirements
Supported Platforms
Screen Shots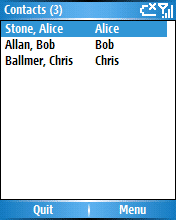 Download
Please read this License Agreement carefully before downloading or using the software.

Unsigned CAB, required for Windows Mobile 2003 devices.

CAB-signed version, recommended for Windows Mobile 5.0 devices.
Simply transfer the .cab file to your smartphone and execute it. Windows Mobile will automatically install the utility and delete the .cab file afterwards.